I just wanted to do a quick post and show you all the latest progress on the craft room. Saturday my daughter came over and we got the furniture in place. Her SO (significant other) is coming over one day this week with a couple of the boys and is going to put my shelves up. Finally!! My neighbor is coming over soon and is going to hook up a TV in there for me too. I didn't take any pictures of the peach wall because right now it just has ladders and paint stuff sitting there. Eventually that wall is going to have my littler fridge and freezer on it with shelves above them for my small kitchen appliances, cookbooks etc, so it's really not part of the actual crafty space...lol. I don't have a lot of cabinet space in my kitchen so I needed the storage. For right now I am going to use the space to put boxes and bins to go through as I bring them in. I am hoping we can get the shelves painted this weekend and then I can really get to work putting things away.
This is a view from the kitchen door into the room. I even have space for a couple of friends!! The TV is going on the left end of the credenza that is on the yellow wall. I haven't decided where to put Big Mama, my Cuttlebug, my Bind It All and my 2 printers and camera dock yet. We'll see once the shelves are up. Please excuse the mess.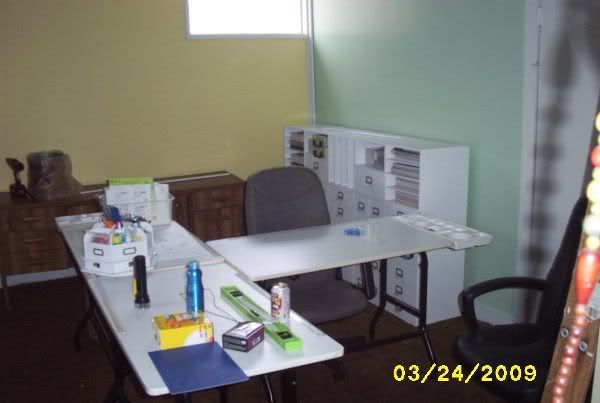 This is just my big file cabinet and my loose paper and cardstock drawers. They are just the 12x12 drawers you can get at Walmart. I have 12 sets of them here with room to expand. I think I am going to go ahead and pick up 3 more this week "just in case" they quit selling them or something. Plus I am not sure this is all my paper yet so I "might" need them...lol. The big file cabinet will have all the 8.5x11 paper that was in the smaller file cabinet, plus i have files of crochet patterns etc to go in it too. Plus whatever else I decide to stuff in it. Hmmm, maybe those DCWV stacks will fit...hmmm. LOL, I am still undecided about a lot of things and will probably change things around a million times before the room is all done.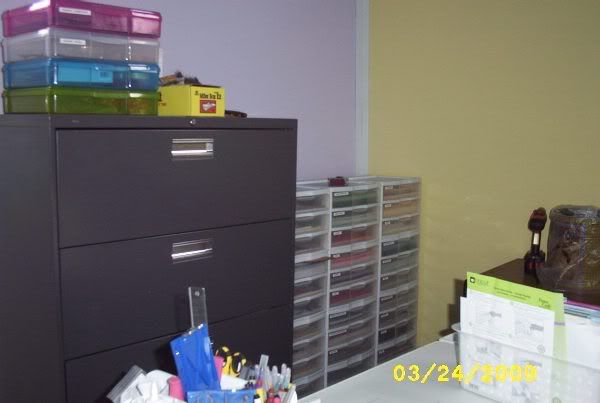 This last one is just a closeup of my Jet Max Cubes. I have my DCWV paper stacks in them and they will be full of all my "junk" when I get putting things away. Nothing is organized yet. That was all just stuffed in them in my bedroom and my grandson just carried them all into the craft room full. I have to get the drawer handle back on that one drawer too. I forgot about it until I just looked at this picture...lol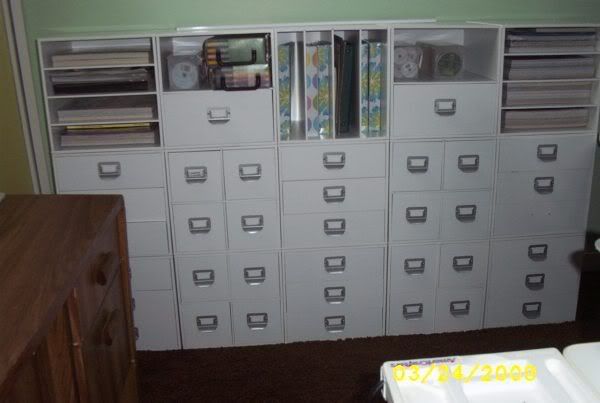 OK, now I am off to find my surge protectors and some cable cord for the TV hookup. I also am in a stamped images swap with some girls on the Cricut Message Board so I am going to try to get them done today and mailed this week. You all have a good day and leave a comment and let me know what you think!! Hugs, Pam